---
Past Events
---
2022
SUNSET CIRCUS
---
Your day just started. Our intoxicating story awaits. Welcome to SUNSET CIRCUS. We've just met, but we've known you forever. Tonight, everybody's family. SUNSET CIRCUS is an original work of contemporary circus, conceived for indoor and outdoor environments.
---
2021
EVENTIDE
---
(co-production with 3AM Theatre) Born in Parallel Exit's Physical Theatre Lab, EVENTIDE is an evening length indoor theatrical production showcasing the visual and technical signature of the contemporary circus company 3AM Theatre. EVENTIDE follows the story of a young couple in a rough patch fueled by thoughtless patterns and personal misgivings. One late night, in a twilight daze, they find the freedom to relive pivotal moments, face hard truths, and pursue reconciliation, healing, and personal growth.
---
2020
THE ARTIST WILL BE WITH YOU IN A MOMENT
---
Created, Written, and Performed by Joel Jeske
Directed by Mark Lonergan
Jeffrey and Paula Gural Theatre
at the A.R.T./New York Theatres
‪502 West 53rd Street, NYC‬
---
A comic everyman is on a never-ending quest to be understood. His audience awaits.
Fill in the blanks in this multimedia event that asks us to investigate where the artist's journey ends and the audience's begins.
---
2018
THE FINAL REEL
---
Inspired by the iconic films Sherlock Jr and The purple Rose of Cairo, THE FINAL REEL follows the story of an eccentric character who accidentally steps into the final reel of a silent film and falls in love with the heroine. The two-love birds step back into the modern world and the heroine is left to make a fateful decision.
---
2015-2016
Big Apple Circus
---
Parallel Exit's artistic visionaries Mark Lonergan and Joel Jeske are the minds behind the 2015-2016 Big Apple Circus production The Grand Tour — a circus extravaganza set in the 1920s and featuring acts from the four corners of the globe. In this New York Times Critics' Pick, ships, trains, automobiles, and airplanes serve as the backdrop for breathtaking acts of wonder, including clowns, jugglers, acrobats, and aerialists, from Africa, Asia, Australia, Europe, and North and South America.
2015
Everybody Gets Cake!
---
Everybody Gets Cake! takes a Python-esque turn, featuring surreal sketches with innovative comedic influences from several different decades. From the silent film era to the talkies to Adult Swim, iconic comedy styles collide in this outrageously funny show. And, for something completely different, indeed everybody gets cake!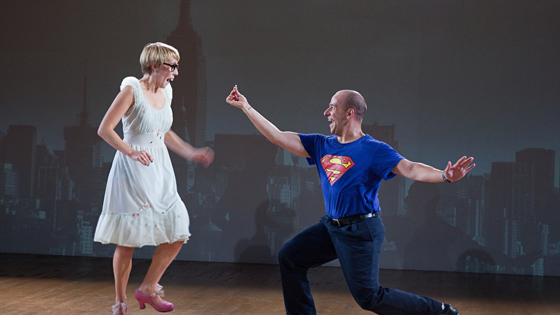 2012
I Love Bob
---
Inspired by the films City Lights and An American In Paris, I Love Bob tells the story of Bob, everyone's favorite deliveryman, through dance, tap, and physical comedy. Bob's a superhero. Well, in his mind. There's just one problem. He's a disaster. I Love Bob explores what happens when he finds true love, crashes the stock market, gets a makeover for life, and somehow rescues the Statue of Liberty. You'll love Bob, too.
2011
Room 17B
---
It's like your job…but weirder. Room 17B is a comedy that celebrates the silent physical style of Charlie Chaplin and Buster Keaton with a dash of Monty Python and Tim & Eric. The typical 9 to 5 is turned on its head in this fusion of physical comedy, dance, live music, and audience participation.
2009
Exit Stage Left
---
Exit Stage Left is a rollicking speed-of-light comedy. Harkening back to the days of vaudeville, it packs more entertainment in a single show than a three-ring circus, presenting a wide range of old-fashioned family entertainment, from tap dance to live music to slapstick comedy.
2008
Time Step
---
Time Step fuses the tap stylings of Fred Astaire and Gene Kelly with the comedy of Charlie Chaplin and Buster Keaton to tell the tale of three hilarious hoofers. Through tap dance, they evoke the world of classic movie musicals with a story that shuffles between past and present.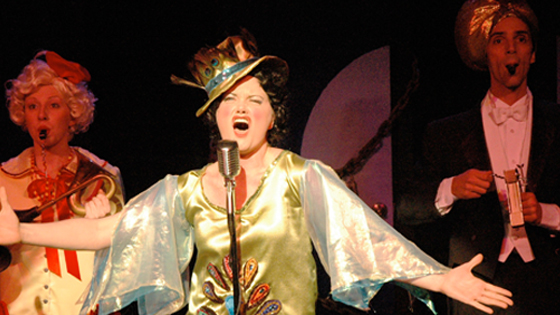 2007
Cut to the Chase
---
Cut to the Chase is a family vaudeville revue that follows the backstage antics of a lovable troupe of performers putting on a show. The archetypal haughty diva, deadpan drummer, and perky juvenile are all present, singing, tap-dancing, and, yes, chasing their way into the hearts of audiences.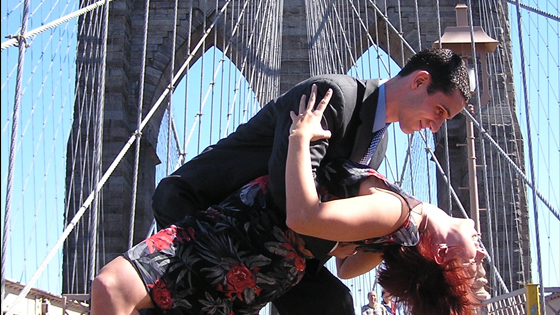 2005
Powerhouse
---
Set to the swinging, sophisticated melodies of composer Raymond Scott, Powerhouse is a valentine in music, movement, and dance to youthful idealism. Part classical ballet, part jazz dance, and part vaudeville, it tells a story of finding of self worth and romance against the backdrop of the Big Apple.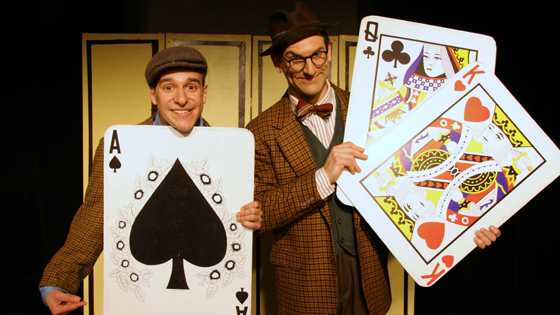 2005
This Way That Way
---
This Way That Way is inspired by the great comic duos of the 20th century. It features two con men on a cross-country trip, on which they meet various characters and escape from a variety of predicaments while performing such feats as magic, tap dancing, spinning plates, and juggling.